Current Students
Current Students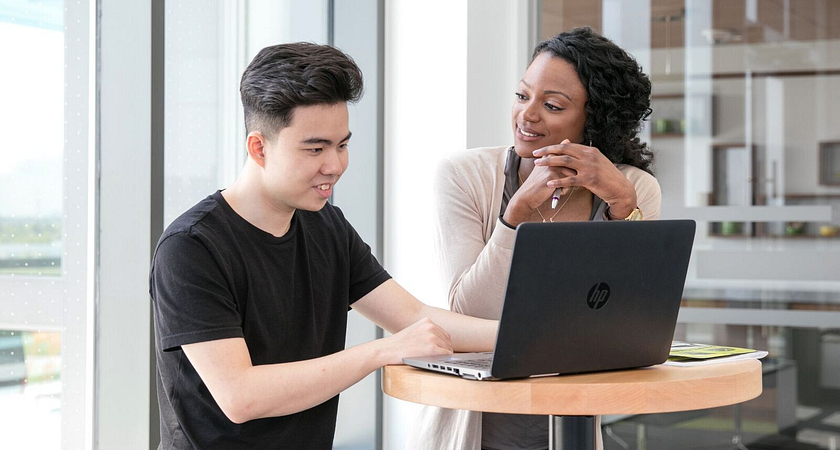 Virtual Advising Support During Registration
Welcome All New Students!
You are encouraged to attend a 1 hour Group Advising Session: Top 10 Tips for Online Program Success running Monday, August 23 through Friday August 27 at 12-1 pm or 3 pm (Eastern Standard Time). Get the Experience Centennial App to attend the session.
Build Your Timetable Online
All students can build their own timetable based on course availability.
| Web Registration | Date |
| --- | --- |
| Web Registration / Timetable selection begins – First and Final Semester Students | Wednesday, July 21, 2021 |
| Web Registration / Timetable selection begins – All Remaining Students | Wednesday, July 28, 2021 |
| Fall 2021 Semester Start for most day programs | Tuesday, September 7, 2021 |
Visit Registration Information to learn more about building your timetable online.
Centennial Access to Student Services
For advising, and to request specific courses from outside your term, your Success Advisor is available by submitting your request through the Virtual Registration Assistance link on your student tab in myCentennial.
There is no need to submit duplicate requests. You can check your virtual registration request status with Microsoft Teams.
Find out your Success Advisor below.
New and Returning Students Registration Information.
International Students Timetable Registration Information FAQ.
Specialist Advising Services for Current Students
Your Success Advisors
School of Advancement
The Business School
Program
Advisor Name
Contact
Business Admin - Accounting
Business Accounting
Business Admin - Accounting Fast Track
Business Admin - Finance
Financial Planning
Financial Services
Strategic Management Accounting
Bookkeeping
Mabel Liu
mliu@centennialcollege.ca
Business - Supply Chain & Ops
Business Admin - Supply Chain & Operations Mgmt
Supply Chain Mgmt - Logistics
Business - International Business
Business Admin - International Business
International Business Management
International Development
Business Analytics & Insights
Rasha Mardini
rmardini@centennialcollege.ca
Bus Admin - Marketing
Business - Marketing
Fashion Business & Management
Marketing - Corp Acct Mgmt
Marketing - Digital Engagement Strategy
Marketing Management
Marketing Research & Analytics
Project Management
Nadia Kangal
nkangal@centennialcollege.ca
Law Clerk
Office Admin - Executive
Office Admin - General
Office Admin - Health
Office Admin - Legal
Paralegal
Paralegal Court & Tribunal
Court Support Services
Bus Admin - Human Resources
Human Resources Management
Contact Center Operations
Shadya Abdulrahim
Business Foundations
Pre-Business
Strategic Management
Business
Business Admin - Leadership & Management
Insurance Management
Global Business Management
Hanaa Ali
School of Engineering Technology and Applied Science
School of Communications, Media, Arts and Design
School of Hospitality, Tourism and Culinary Arts
Program
Advisor Name
Contact
Culinary Skills (1812, 1862)
Culinary Management (1811, 1822, 1861)

Baking Skills (1810, 1860)
Baking and Pastry Arts Management (1813, 1823, 1873)
Jumoke Famutimi
JFamutimi@centennialcollege.ca
Hospitality – Hotel Operations Management (1807, 1837, 1867)
Ijeoma Ekoh
IEkoh@centennialcollege.ca
416-289-5000, ext. 8101
Hotel and Tourism Administration (1805)
Tourism (1824)
Event Management (1831, 1835)
Event Planning (1838, 1839)
Food and Beverage Management (1808, 1868)
Hospitality Skills (1819, 1869)
Hospitality Foundations (2121)
Hotel, Resort and Restaurant Management (1830)
Food Media (1833)
Food Tourism (1834)
Soyuz Shrestha
SShrestha@centennialcollege.ca
416-289-5000, ext. 7181
School of Community and Health Studies
Program
Advisor Name
Contact
Practical Nursing (9350)
Practical Nursing Flex (9351)
Lisa Jones
Last Names A - K

Megan Purdy
Last Names L - Z
LJones@centennialcollege.ca
416-289-5000, ext. 2369

MPurdy@centennialcollege.ca
416-289-5000, ext. 4593
Practical Nursing for Internationally Trained Nurses (0352)
Personal Support Worker (9111)
Health Studies and Communication Skills (9310)
Practical Nursing IEN
Paramedic (UTSC) (9101)
Healthcare Environmental Services Management (9158)
EMPS Part-time Courses
Manal Abdullahi
MAbdullahi@centennialcollege.ca
416-289-5000, ext. 8464
Collaborative Nursing BScN
Bridging to University Nursing
Bridging to University International Level 1
Bridging to University Flex
Postgraduate Nursing Part-Time
Matthew Edwards
medwards@centennialcollege.ca
416-289-5000, ext. 8037
Workplace Wellness & Health
Nutrition Management
Pharmacy Tech
Occupational/Physiotherapist Assistant
Esthetician
Massage Therapy and Massage Therapy Compressed

Mehnaz Tabassum
MTabassum@centennialcollege.ca
416-289-5000, ext. 8464
Early Childhood Education (Progress & Ashtonbee, Part Time)
Fitness and Health Promotion
Audrey Le
audreyle@centennialcollege.ca
416-289-5000, ext. 3441
Community and Justice Services
Police Foundations
Pre-Service Fire Education & Training
Mede Ovbiagele
movbiagele@centennialcollege.ca
416-289-5000, ext. 2119
Developmental Services Worker
Social Service Worker
Community Development Work
Mental Health & Addiction Studies
Community Services Part-time Learning Programs
Michele Cauch
mcauch@centennialcollege.ca
416-289-5000, ext. 7178
Community and Child Studies Foundation
Child and Youth Care Full time, Part time and Apprenticeship
Recreation and Leisure Services
Joan Clee
jclee@centennialcollege.ca
416-289-5000, ext. 2608
School of Transportation
Program
Advisor Name
Contact
Aviation
Sonja Arancibia
sarancibia@centennialcollege.ca
416-289-5000, ext. 7280
Automotive – Motive Power Technician
Motive Power – Truck and Coach Technician
Motive Power – Heavy Duty Equipment Technician
Trades Foundation – Motive Power
Anjana Patrick

APatrick@centennialcollege.ca
416-289-5000, ext. 3599