Safety Watch App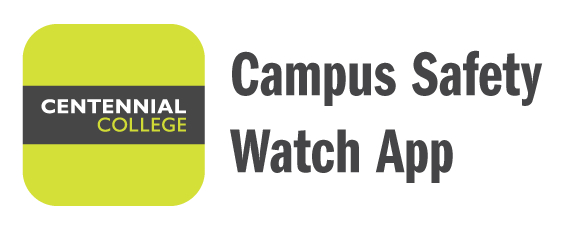 Download Now
In All Emergencies, Dial Ext. 2020 or 416-439-4357 (HELP)
General Service: 416-289-5000, Ext. 5240
For Your Safety
For Your Safety boards are available in various locations at each Centennial College campus. These boards contain information about our Safety and Security Services the following information and promotional material:
WalkSafe Service information
First Aid procedures
Campus safety tips
Campus safety and security alerts and other public safety information posted as necessary for 30 days.
Emergency procedures
Awareness campaign information

Women's Safety
Silence Isn't Consent
Stop Bullying Now
Campus Safety Tips
Personal Safety
If staying on campus after-hours, please use the Working Alone Service and see campus security.
Use our WalkSafe Service
Travel in pairs, especially after dark
Avoid isolated areas; never take short cuts in dark areas
Travel in well-lit areas
Try not to have a fixed routine
Walk with confidence and be alert to your surroundings
Use caution in conversations with strangers
Wear shoes and clothing that allow you to move quickly and freely
Avoid responding to disrespectful jokes or comments
If you think someone is following you, switch directions quickly. If still uncomfortable, seek areas where there are people, and call security or the police.
Yellow emergency phones are located throughout the Campus to contact Security
Don't carry a lot of cash, bank machines on campus
Don't overburden yourself with packages or a knapsack
Don't hitchhike or accept rides from a stranger
Have keys in hand before you reach your building or car
Report unwanted touching
Report suspicious activity to Campus Security or Police
Public Transit Safety
Use our WalkSafe service
Walk with confidence and be alert to your surroundings – report any suspicious behaviour to TTC authorities or police
Avoid waiting at bus or streetcar stops use the TTC time line, or information line at 416-393-INFO (4636)
Avoid displaying money in public, have your fare ready for payment
Sit near the bus driver
Use the Designated Waiting Areas (DWA) at subways
Be aware of places where you can get help. (i.e. open stores, restaurants, public telephones, etc.)
For help or in emergencies on TTC press or pull the passenger assistance alarm (yellow strip), call police at 911 from any public phone or your cell phone or go to TTC employees
The TTC's "Request Stop" Program allows women to get off buses at locations between regular TTC stops. This program operates after day light hours
When you have completed your trip and have to walk home, try and arrange to have someone meet you
Vehicle Safety
Don't leave running vehicles unattended
Park in well lit, high traffic areas
Lock it and pocket the key
Avoid leaving valuables in your vehicle or reduce the temptation by securing them out of sight
Keep your vehicle registration in a secure location. Don't leave originals in your vehicle.
Avoid fumbling for keys, have your keys in hand before you reach your vehicle or destination
Check the interior of your car before entering it
Always lock your doors after entering
Consider getting a vehicle security system
Report all incidents and suspicious activity to campus security or the police
Locker Safety
Ensure you use a sturdy, reliable lock
Keep your locker combination confidential
Check your locker regularly
Do not leave valuables in your locker especially overnight or through weekends
Report all incidents and suspicious activity to campus security or the police
Online Safety
Privatize social media accounts
Don't make posts identifying your whereabouts
Don't post pictures of your ID or banking information
Backup files and update your anti-virus regularly
Have a strong password and change it often
Only connect with people you know
Document cyber bullying or harassment and report it
Remember, once it's online, it is usually permanent