QUESTIONS
P.O. Box 631 Station A
Toronto, ON, M1K 5E9
The Resilient Community: Adapting to a Changing Climate
The Resilient Community: Adapting to a Changing Climate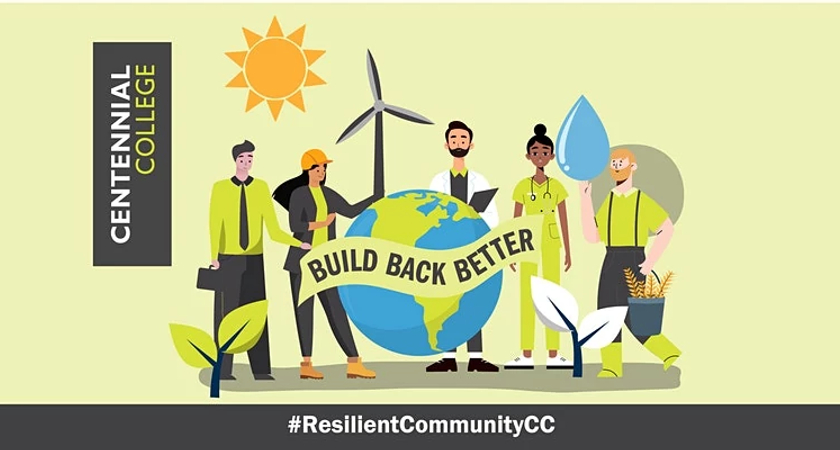 Climate change represents the largest threat to our modern way of life and the time for transformative action is now. With this in mind, Sustainability at Centennial and Solv. Sector Sessions (SX3) created "The Resilient Community: Adapting to a Changing Climate" virtual event series. The series, which took place February 23-25, 2021, included 5 sessions and discussed how we can become resilient to the impacts of climate change through the lens of business, healthcare, infrastructure and food security.
Throughout the three days, over 185 participants joined to listen and engage with an amazing line-up of experts.
In addition to our sessions we also curated a resource guide which we invite you to explore. This guide highlights additional information on ways to reduce your environmental footprint and adapt to a changing environment. We hope you find it useful in the decisions you make in your day-to-day lives!
If you would like to watch or share any of these sessions, you can access the recordings below.
Session Recaps

Day 1 Recap
A keynote presentation led by Tom Rand, Managing Partner, ArcTern Ventures, and author on all things climate and cleantech
A panel discussion featuring Andrea Reimer, Adjunct Professor of Practice at University of British Columbia's School of Public Policy and Global Affairs, as our moderator and the following panelists:
Josephine Grey, Founding Director of the OASIS Food Hub Project for St. James Town Community Co-op, Co-founder of FoodShare
Dr. Joe Vipond, Board President, Canadian Association of Physicians for the Environment (CAPE)
Eladia Smoke, Principle Architect, Smoke Architecture
Ariella Lukach, Vice President, Strategy & Positioning, Stiletto
Main Keynote and Panel Link | Access Passcode: kVpx4=4N
Day 2 Recap
Healthcare Session with Dr. Courtney Howard, Emergency Physician in Yellowknife and past President of the Board of the Canadian Physicians for the Environment (CAPE)
Business Session with Ariella Lukach, Vice President, Strategy & Positioning, Stiletto
Day 3 Recap
Infrastructure Session with KaaSheGaaBaaWeak | Eladia Smoke, Principle Architect, Smoke Architecture
Meeting Recording | Access Passcode: ZB^TJ6V8
The Interconnections Between Food Insecurity and Anti-Black Racism in Canada with Paul Taylor, Executive Director, FoodShare Toronto
Meeting Recording | Access Passcode: +E?&9c8s