QUESTIONS
P.O. Box 631 Station A
Toronto, ON, M1K 5E9
Phone Apes Recycling Program
Phone Apes Recycling Program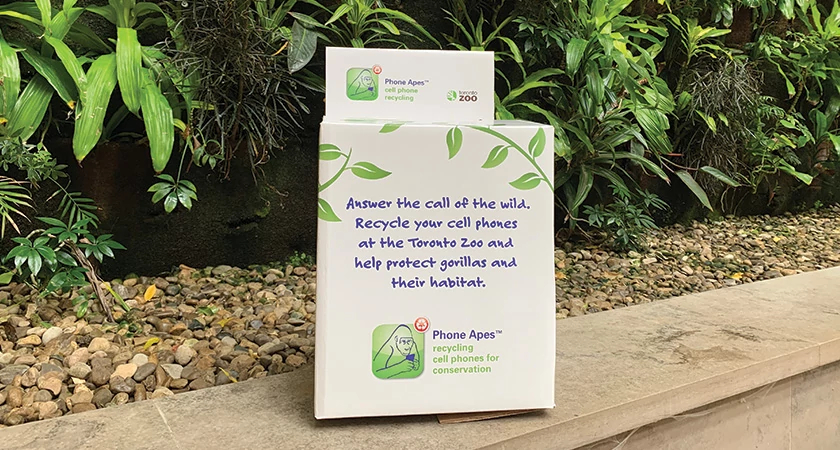 Centennial College has partnered with the Toronto Zoo to provide cell phone recycling services through the Phone Apes program. Nearly half of Canadians have unused old cell phones at home[1], but these can be used to help save gorillas and the environment instead through responsible recycling. Since its inception 15 years ago, the Phone Apes recycling program has helped to re-use valuable metals, divert materials from landfills and toxins from leaching into the soil and groundwater, as well as protect gorillas and their habitats from mining.
Metals such as coltan are most concentrated in the Democratic Republic of Congo. This 'conflict' metal contains tantalum, which is used in cell phones and electronic devices. However, the mining of coltan has environmental and socio-economic impacts. The critically endangered Grauer's gorillas live in the same rainforests and coltan mining has played a large role in the loss of 87% of the gorillas' habitat range within the last 50 years, and more than 50% of the population since the 1990s[2]. When old cell phones are recycled, metals such as tantalum can be re-used, closing the loop on waste. In turn, the demand for mining of this conflict metal in the home of endangered Grauer's gorillas is reduced.
Did you know by not properly recycling cell phones, Canadians dispose of around $6 million per year of gold and silver alone![3]
The steps to making a positive change are simple:
Discontinue your service plan and remove all personal data and information. Confidentiality is protected and any remaining data on the phone will be wiped.
Drop off your cell phone at collection boxes located on all five Centennial campuses near the security desk.
Click here to learn about how the collected phones are responsibility recycled in Ontario, privacy information, and what conservation projects are supported from the revenue generated.
Centennial students are leading this change, building awareness of electronic waste issues and promoting recycling initiatives. Infographics created by the Corporate Social Responsibility and International Development class highlight the need for our impact and responsibility to society and environment in combatting the global e-waste crisis. Click here to view the collection of infographics and learn the importance of consuming less and managing e-waste sustainably.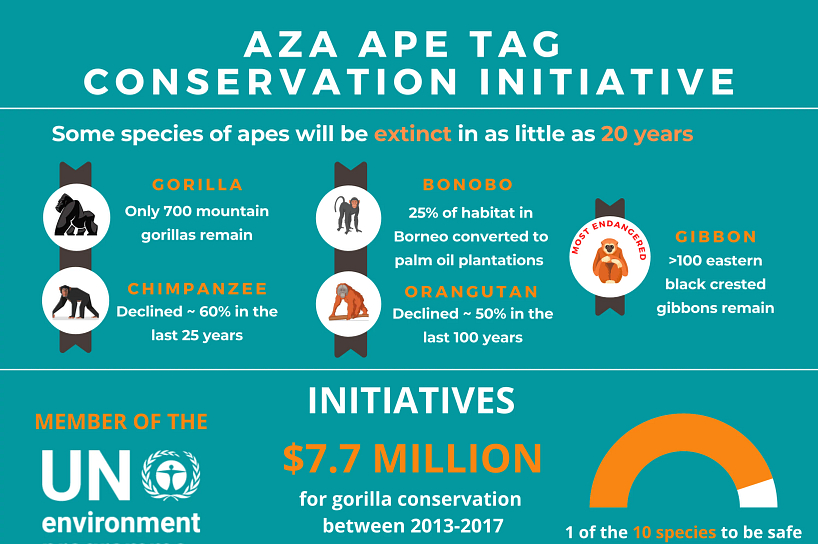 Aza Ape Tag Conservation Initiative Infographic
Learn More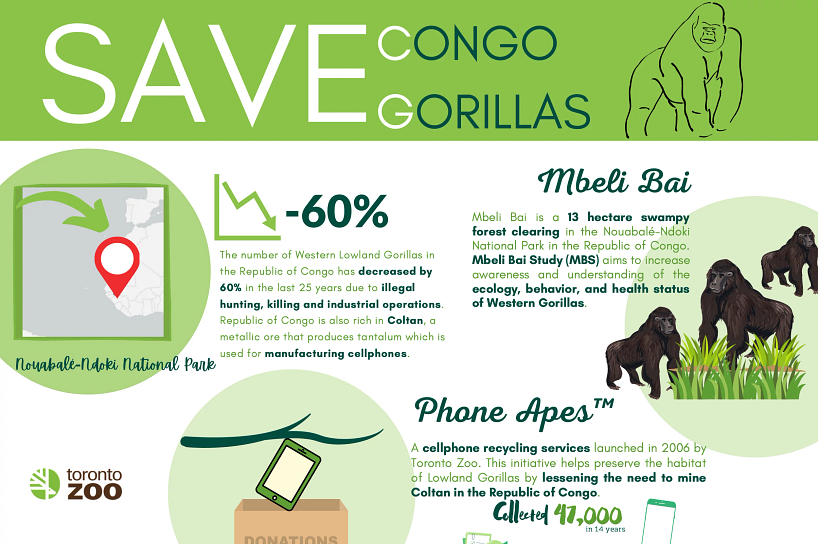 Due to COVID-19 safety protocols, only faculty, staff and students invited to come to campus for lab programming may utilize the collection boxes at this time. If you are not permitted to visit the campus yet, hold onto those cell phones! Once normal operation begins to resume you can utilize the campus collection points.