QUESTIONS
P.O. Box 631 Station A
Toronto, ON, M1K 5E9
PPE Recycling Program
PPE Recycling Program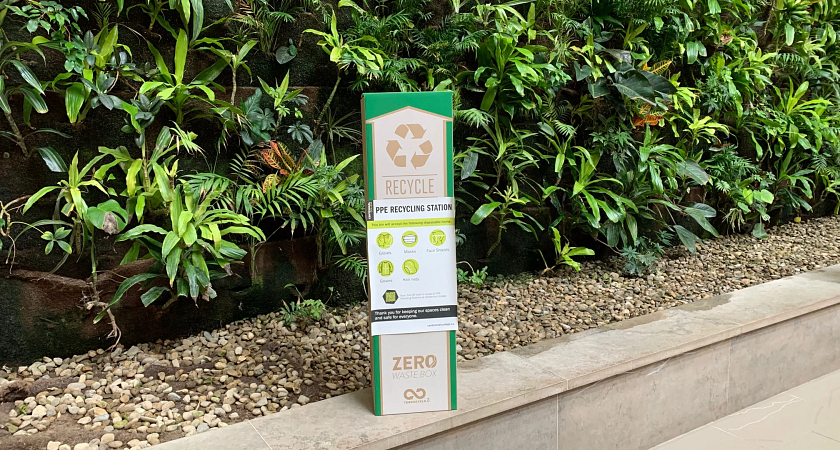 Centennial College has implemented a Personal Protective Equipment (PPE) Recycling Program with the help of TerraCycle, to responsibly manage the surge of waste that is being created as a result of COVID-19. Instead of discarded PPE ending up in the landfill, you can deposit disposable PPE in one of our designated recycling station bins. The material will be sent to TerraCycle, where it will be cleaned, melted, and remolded to make new products like park benches, playgrounds and garden beds made from recycled materials.
We have deployed PPE Recycling Stations across all campuses and those labs which have seen an increased use of disposable face masks, gloves, and gowning. These stations will accept gloves, masks, face shields, gowns, and hairnets.
Click here to download a PPE Recycling Station Poster
On your way out of the campus, you can deposit your used disposable PPE at the following locations:
Progress Campus: Library Main Exit
Morningside Campus: 200 Level Exit
Ashtonbee Campus: B-Block Exit
Downsview Campus: Main Exit
Story Arts Centre: Main Exit
Of course, the best way to keep our environment and college community safe is to follow these easy steps:
1
Choose reusable masks over disposable ones.*
2
Choose good hand hygiene over disposable gloves.* and
3
Never litter PPE, it not only harms the environment but also the health of our community by contributing to the spread of COVID-19. Ensure disposable PPE is placed in our recycling station bin or in the waste bin.
*unless the nature of your work at the campus requires you to wear disposable.