Every mannequin tells a story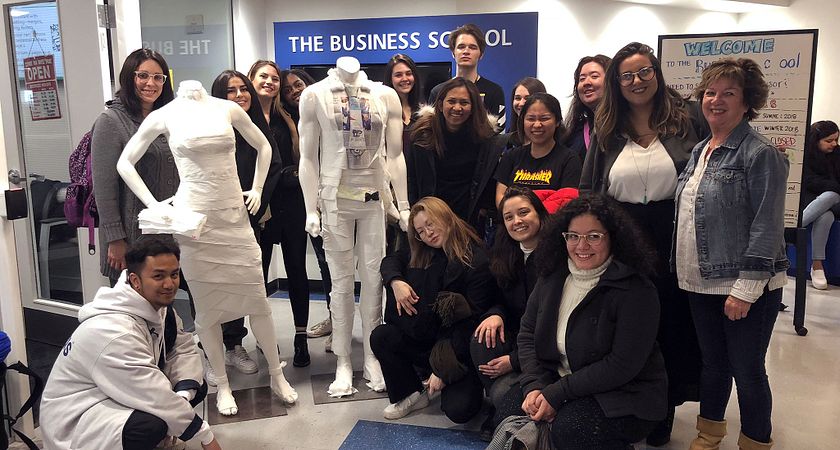 A recent project that students of The Business School at Centennial College undertook saw the creation of some amazingly lifelike, coiffed and perfectly styled mannequins. These models were designed and dressed by a group of 16 students from the Fashion Business and Management program as part of their recent project to highlight the importance of display visuals in retailing.
This project is one of the many unusual, yet challenging, assignments that make students' learning more experiential at Centennial, rather than just test-driven. The program's group activity required the students to dress the mannequins using only bathroom tissue, tape, cotton balls and a whole lot of their imagination.
"They were divided in teams of two, with one person leading the team. The team had exactly one hour to complete this task," says professor Kathleen Leslie. "The idea was to help them understand that once you have your store and merchandise set up, how do you dress the mannequins in the store windows to attract more people?"
While dressing the mannequins was important, it was just one phase of this innovative assignment. The student teams were required to build a website using Shopify, and upload all their materials, including their planogram onto it. Every day for five days, professor Leslie uploaded an event for which the teams had to purchase merchandise from their fellow colleague's websites, all within a suggested budget.
"The interesting thing about buying merchandise from each other's website was that, if they hadn't studied their customers enough, which are their classmates, they would run out of inventory, which could not be reloaded," Leslie says. "In other words, they had to understand what appealed to their customer." The students were required to spend 95 per cent of their budget on everybody's website to make purchases, and each day involved a different event with a different budget.
The response to this project has been overwhelming. The findings of the assignment were presented to the Academic Chair of the program by leaders of each team. When asked how this particular project worked for them, one team leader said, "I listened to my team. I listened to their ideas, to what their direction was."
"The students were very creative. All the teams thought outside of the box and in the end we witnessed the evolution of eight different, unique Shopify ideas from inception to completion," Leslie says. "Next year, both the mannequin and Shopify activities are going to be a recurring project. This will also act as a springboard for second-semester students to find ways to make their mannequins even better than the last semester class."
By Jerin Thomas