The culinary secrets of wood-fired ovens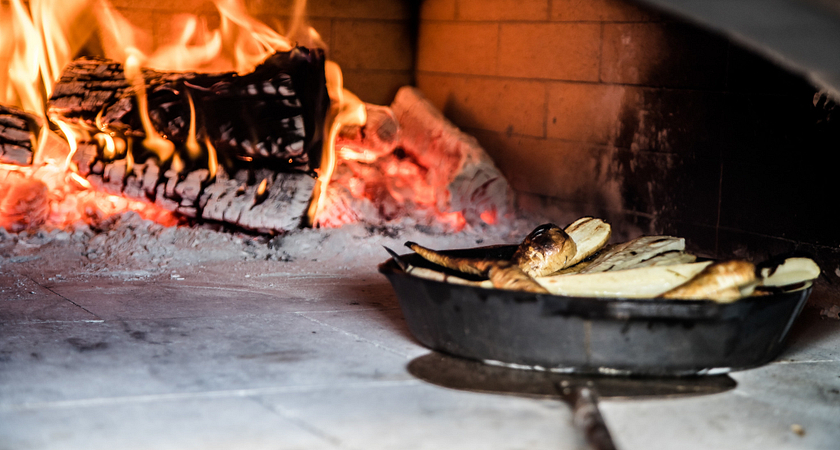 Ever wondered where you get wood-fired pizza from? If it's really good, it probably came from a wood-fired, stone-baked oven, maybe even the kind that has to be built outdoors. These giant outdoor ovens are how people used to cook, and are used today to make fancy, artisan food in large quantities. While you can buy smaller, portable outdoor wood-fired ovens, the best ones are custom-made. This May, Centennial College finished building one of their own, located across from our Culinary Arts Centre. Here are some facts about these big, fiery food-makers, and why they're so special, as told by Matthew Duffy, a Baking and Pastry Arts professor at the college.
It's how people used to cook.
Wood-fired ovens are more than just an artisanal way to cook. They're a piece of history.
"All cooking used to be like this," Matthew says. "This is the original oven."
"The oven is insulated brick on the outside, with a big stone on the bottom, and it gains thermal mass," Matthew adds, explaining how it works. "So when you burn the fire, the heat absorbs into the stones. If we light that oven today, we'd head it up to 1,000 degrees, and close that insulated door. Tomorrow, when we come in, the temperature's 950 degrees. So the temperature keeps, and we can cook all day with it. By the end of the day, it's at about 400 degrees, and you can roast some chickens, or throw in a tray of short ribs that cooks overnight until the next day."
Lighting it is a big event.
As Matthew mentioned, the big drawback to using these kinds of ovens is that you need to prepare it in advance, in order to make sure it's hot enough to cook with.
"One of the challenges is that it takes a day," Matthew says. "You need to light it today to cook something hot tomorrow. You need to build up the thermal mass in the oven. So one of the challenges is that if I have a class on Thursday, and I want to use it, who lights it? Does my class have to come in on Wednesday? "
Despite that challenge, using it to cook has its advantages.
"It's a lot harder to cook in a wood oven, it takes more skill," Matthew says. "But you can cook hotter in that oven, so if you're cooking something like bread, you can retain more moisture, and the bread's shelf life is better."
Aside from that, there's the basic fact that everything that comes out of a wood-fire oven is delicious.
"So far, we've used it for flatbread, we've roasted some squash, we've cooked some fish in it. It's kind of been everything," Matthew says. "Anything you can cook in a regular oven, you can cook in a wood oven."
 "There's no best thing," he adds. "It depends on the season and seasonal availability. There was a fish cooked in it last week that was awesome, you can use it to smoke meats, we did some Brussel sprouts in it that was incredible, we did some flatbreads in it last week."
It's a great community-building tool.
Because a wood-fired outdoor oven is such a crowd-pleasing tool, cooking it becomes an event that forms a community.
"When you're cooking with it, everyone comes out," Matthew says. "All these people outside see the smoke, smell it, the taste, the flavour, it's just such an exciting thing to have." Matthew's hoping to piggyback off of this and host big events once the weather warms up.
"We can use it as a meeting place for events with the students, and can do events with The Local," he says. "We're hoping to do a long table out here in the spring, and have a full meal cooked out of the oven."
Culinary students can learn from it.
While it produces delicious food and serves as a community-building tool, the real purpose of the oven is to teach Culinary Arts students the history of cooking and give them yet another practical skill they can take into their careers. The college has only just started using it for education, but students in our Culinary Arts programs are going to be seeing a lot more of it.
"We've only done a few small events with it, but we will do more and more. Next fall semester, we'll have it fully incorporated so that all classes will use it," Matthey says. "In my baking class, I'm not going to use it every class, but I'll use it a few times over the semester."
So far, the culinary arts students that have used it love it, and even the snow won't stop them.
"I had a student come to me last week and ask, chef, are we using the oven this week?" Matthew says. "I said no, and he said why? I said, look outside, it's snowing. He said, so? I said, do you want to go light it, he said, yeah, so then he came in, lit it, and guided the rest of the team to cook in it, and he basically ran that section of the class."
Written by: Anthony Geremia