50th Anniversary Commemorative Books
50th Anniversary Commemorative Books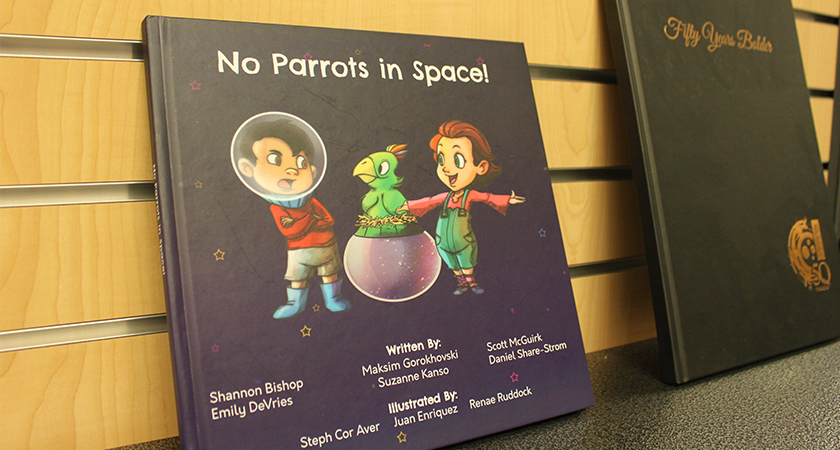 We are delighted to offer two special books to mark Centennial College's 50th anniversary for purchase at all of our campus bookstores and the Office of Development and Alumni Engagement at Progress Campus A2-74. All proceeds from their sale will be directed towards our 50th Anniversary Scholarship Fund to benefit Centennial students.
Our commemorative 50th anniversary coffee table book featuring 230 carefully-selected photos that chronicle Centennial's growth as the province's first College of Applied Arts and Technology. The book takes you on a journey from our humble beginnings in a mothballed factory on Warden Avenue, through the smoky haze of the 1970s, the success of our co-op education programs introduced in the 1980s and the expansion of the Centennial College brand worldwide in the 2000s. This hardcover book is a keepsake that will grace your bookshelf for years to come!
$30.99 each (plus HST) - college employees can apply their 20% staff discount
A children's book that celebrates Centennial's 50 years of fostering learning experiences, inspiring creativity and opening doors. Students, working alumni, faculty and staff from the Story Arts Centre joined together in an experiential learning journey to create this compelling story.
This beautifully illustrated book features Ali, who learns from his new classmate, Neelu, that life is richer when everyone is open to new ideas. Ali's transition from excluding to including underlines Centennial's mission as a place of learning that promotes diversity and inclusiveness. This book makes a great gift for young readers!
$10.99 each (plus HST) - college employees can apply their 20% staff discount