Live Green Challenge
Live Green Challenge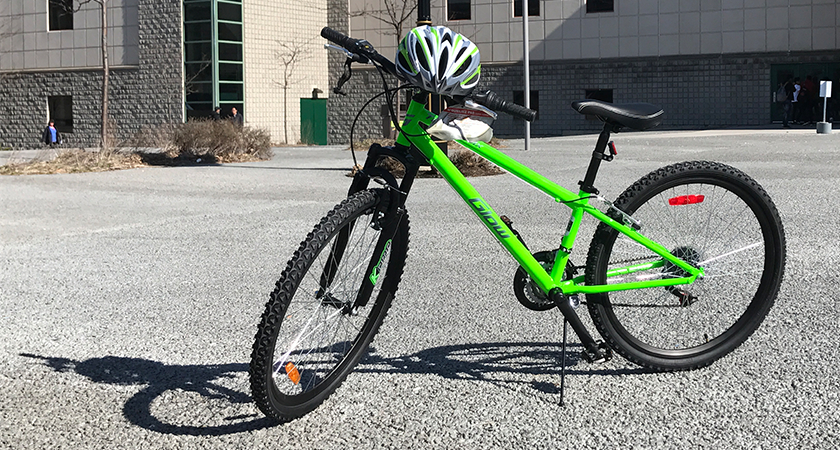 Centennial's Live Green Challenge is an initiative to encourage everyone to continue to make the world a little greener every day.
In April 2017, we challenged staff, students, faculty, alumni, and the entire extended Centennial family to continue to "greenify" the planet by taking on some (or all) of our 50 Habits of a Green Centennial, and to share them on Instagram, Twitter or Facebook using #Amazing50 for a chance to win a new bike!
While the contest is over, the goal to make our world a greener place never ends, so what are you waiting for? Get your Green on!
50 Habits of a Green Centennial
Act Green
Show respect for the environment - pick up trash
Participate in a clean-up
Recycle waste
Participate in a waste audit
Plant a tree or flower
Water a garden
Turn off the water when you brush your teeth.
Many electronics consume energy even when switched off. Unplug things like coffee makers, audio systems and gaming consoles when not in use.
Repair leaky toilets and taps.
Use compact fluorescent light bulbs.
Turn off the lights.
Use reusable shopping bags.
Use eco-friendly cleaning products.
Switch to eBilling or Canada Post's epost service to cut back on paper use.
Use a drying rack or clothesline to save the energy used during machine drying.
Take shorter showers to reduce water use. This will lower your water and heating bills too.
Power down your PC when it's not in use.
Lobby your local government to increase spending on sidewalks and bike lanes. With little cost, these improvements can pay huge dividends in bettering your health and reducing traffic.
Donate or recycle your cellphone/computer responsibly when the time comes. E-waste contains mercury and other toxic and is a growing environmental problem.
Ask your local government to set up an electronics recycling and hazardous waste collection event.
Reuse/Reduce - Donate gently used things like clothes and household items to give them a second life instead of throwing away.
Take a political stand for environmental protection - write a letter to your MP or attend a rally - let your voice be heard!
Use scrap paper - Printed a draft of an assignment? Use the back of the paper for notes.
Print Responsibly - Reduce your paper consumption from unnecessary printing.
Eat Green
Be eco-conscious, drink fair-trade coffee
Quality over quantity: Healthy living begins by eating less quantity but higher quality foods. Eating less is a great way to save money and energy. By adopting healthy eating habits and appropriate portions, you can reduce health care costs, too.
Reduce food waste: Make meal plans, buy only what you need
Purchase grocery items with minimal packaging
Buy from local producers by visiting your farmer's market
When ordering takeout to eat at home, ask the restaurant not to include any plastic utensils
Grow an edible garden with your favourite fruits, veggies and herbs.
Eat seasonal produce to avoid the extra energy and preservation costs of long-distant transport and greenhouses. Local is best when products are in season as greenhouses may be more energy-intensive than transportation.
Pack homemade lunches in reusable containers.
If you eat meat, add one meatless meal a week. Meat costs a lot at the store and it's even more expensive when you consider the related environmental and health costs.
Buy locally raised, humane, and organic meat, eggs and dairy whenever you can. Purchasing from local farmers keeps money in the local economy.
Whatever your diet, eat low on the food chain. This is especially true for seafood.
Green Grilling; if you have a charcoal barbecue grill, make sure your charcoal comes from a sustainable source. Enormous areas of tropical rainforest are destroyed every year to produce the 900,000 tons of charcoal burned annually in the U.S. If you are replacing your grill, remember that using a gas, rather than charcoal, grill is the most environmentally friendly way to barbecue. It avoids forest destruction and doesn't add to local air pollution.
Order/Pick-up your Good Food Box from CCSAI
Buy Green
Invest in a Bat Box and reduce the number of mosquitoes in your backyard. One bat can eat up to 1,000 mosquitoes a night. You will also be making a contribution to your country's temperate biodiversity: Bat populations around the world are declining, especially in urban areas, where they have few roosting spaces.
When buying paper products, look to ensure it's been certified by the Forest Stewardship Council (FSC).
Purchase appliances and electronics with the Energy Star certification.
Buy a package of recycled napkins.
Use a water filter to purify tap water instead of buying bottled water. Not only is bottled water expensive, but it generates large amounts of container waste.
Bring a reusable water bottle, preferably aluminium rather than plastic, with you when travelling or at work.
Purchase used items: Check out garage sales, thrift stores, and consignment shops for clothing and other everyday items.
Share power tools and other appliances. Get to know your neighbours while cutting down on the number of things cluttering your closet or garage.
Buy in bulk. Purchasing food from bulk bins can save money and packaging.
Buy green power from your utility. In many states, you can purchase renewable energy from your local power company for a few extra dollars a month.