Safety Watch App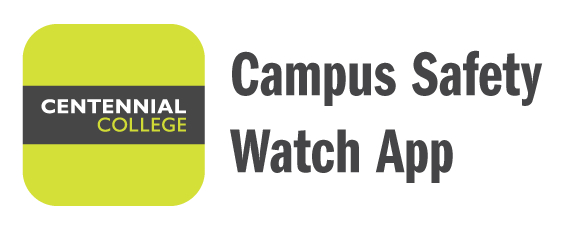 Download Now
In All Emergencies, Dial Ext. 2020 or 416-439-4357 (HELP)
General Service: 416-289-5000, Ext. 5240
Smoke-Free Policy
Centennial College is committed to promoting a healthy working, learning and teaching environment which is integral to the personal, professional and academic growth of students, faculty, staff and visitors. Centennial demonstrates this commitment by being a smoke-free environment to ensure students, staff, faculty, and visitors are not exposed to second-hand smoke while on College property.
Please view the Smoke-Free Policy and Use of Cannabis Policy.
Policy
Smoking/vaping is prohibited on all College-owned and leased properties including the College student residence.
Smoking/vaping is prohibited in any vehicle, including personal vehicles, while on College property. Smoking/vaping is prohibited in College-owned vehicles at all times, on or off College property in accordance with the Smoke-Free Ontario Act, 2017.
Centennial College recognizes the unique relationship that many Indigenous cultures have with the use of tobacco as sacred medicines for traditional and spiritual purposes in accordance with the Smoke-Free Ontario Act, 2017.

The use of tobacco and other sacred Indigenous medicines such as sage, sweetgrass, or cedar for traditional Indigenous cultural purposes may take place in pipe ceremonies by pipe carriers and in smudging ceremonies.
The College supports an environment that is inclusive and welcoming while ensuring that the use of these sacred medicines is conducted safely and in compliance with all applicable legislation and standards.

This Policy shall be interpreted in accordance with the Ontario Human Rights Code. College employees and students may seek accommodation under the applicable College policies which include the Accommodation for Persons with Disabilities and/or Medical Issues Policy and Procedures, the Duty to Accommodate (Non-Medical) Policy and Procedures, the Accommodation Procedures for Students with Disabilities and the Religious Accommodation Procedures.
In the event that this policy conflicts with another policy or legislation, the policy, provision or law which is more restrictive of smoking/vaping will prevail.
Individuals smoking/vaping in areas surrounding College property are expected to avoid littering, and to respect municipal by-laws and provincial legislation. Individuals are asked to be considerate and respectful of neighbouring residents, businesses and institutions.