Safety Watch App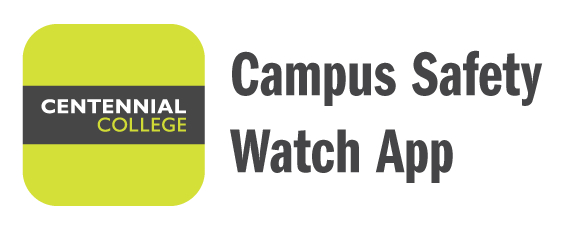 Download Now
In All Emergencies, Dial Ext. 2020 or 416-439-4357 (HELP)
General Service: 416-289-5000, Ext. 5240
Violence Prevention Policy
The purpose of this policy is to demonstrate Centennial College's commitment to providing a safe learning and working environment. This policy is meant to complement the College dispute resolution process for employees and students, the Occupational Health and Safety Policy by further defining behavioral expectations, and the College violence response procedures and prevention strategies. Whatever the cause or whoever the perpetrator, violence is not acceptable and will not be tolerated by the College. All reports are taken seriously, fully investigated and dealt with appropriately and as confidentially as possible. In determining the appropriate response, the College will utilize law enforcement agencies as appropriate.
This policy applies to all students, clients, employees, independent contractors and members of the public when on College property or while conducting or participating in College business at any location.
This policy is designed in an effort to achieve the following
Foster an environment conducive to learning and working which is characterized by respect

Violence reduction in relation to the Centennial College Community and its associated properties

Reduce the negative impact and consequences for Community members who experience, encounter or witness violence by the effective management of situations involving violence or threats of violence in relation to the College Community

Where appropriate and justified, ensure application of proper internal sanction and/or pursue external prosecution by authorities having jurisdiction

Provide a mechanism for reporting violent or potentially violent occurrences

Support and further define the College's mission and strategic directions of providing an effective supportive, safe and secure learning and working environment
If you are involved in a violent incident
Seek help or remove yourself from the situation or both if necessary

Report to Campus Security in person or by calling the emergency Help Line 416-439- 4357, our emergency extension 2020 or use a campus emergency phone

Advise your Program Chair or Manager. If the incident is not reported directly to Security, the person receiving the initial report must refer it to security within 24 hours for investigation, assessment and follow-up.
College community members reporting incidents of violence may request to do so confidentially. Such requests will be honoured to the degree legally allowable with an assurance that reports made in good faith will not result in reprisal. Community members are strongly encouraged to report information relating to College violence to Campus Security.
You may also report incidents to any of the following
Department Supervisor
College Administrators (Deans, Directors, Chairs, Managers, etc.)
College Violence Prevention Team Members
In a timely manner, Security will asses for risk, investigate, and complete a fact finding report. They will also attempt early resolution in consultation with the department supervisor and Human Resources if the complaint is against an employee or to Student Life Enhancement Division if the complaint is against a student Security will also inform Police as appropriate. Safety and Security Services will coordinate the collection of data, analyze cases and update the College Violence Prevention Team as appropriate.
Any complaints covered under the Ontario Human Rights Code (i.e. harassment, poisoned or negative environment and sexual harassment) against any member of the College Community will be dealt with under the Harassment and Discrimination Prevention Policy or the respective Collective Agreement and Employment Terms of Reference.
For more information, view the Centennial College Violence Prevention Policy.