Safety Watch App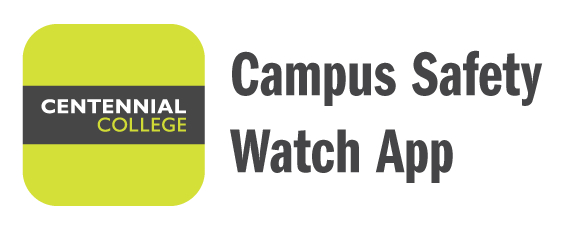 Download Now
In All Emergencies, Dial Ext. 2020 or 416-439-4357 (HELP)
General Service: 416-289-5000, Ext. 5240
Contact Us
In All Emergencies Dial 2020 or 416-439-4357 (HELP)
In case of emergency, use any Campus pay phone or your cell phone for free to call the Emergency Help Line at 416-439-4357 (HELP), or from any internal college phone call Ext. 2020. Please state your location and the nature of the emergency.
Centennial campuses are also equipped with numerous Emergency Phones at various locations. To use the phone just press and release the call button once. The phone automatically calls the emergency extension. Simply state the nature of the emergency, confirm your location, remain on the line and follow instructions.
Campus service phones are installed throughout classrooms and labs. These may be used by anyone for internal calls or calls to 911. Important contact numbers have been provided at each location.
Campus Security Contact Information
General Service - 416-289-5000, Ext. 5240
Emergency - 416-289-5000, Ext. 2020
Emergency Help Line - 416-439-4357 (HELP)
Any Yellow Campus Emergency Phone
Use the Emergency contact information in Campus Safety Watch App
Campus Security Office Locations
Ashtonbee, Room B1-46
416-289-5000, Ext. 5040
Story Arts Centre, Room 100
416-289-5000, Ext. 5140
Progress, Room C1-04
416-289-5000, Ext. 5240
Morningside, Room 234
416-289-5000, Ext. 5340
Downsview, Room 140
416-289-5000, Ext. 5090