Safety Watch App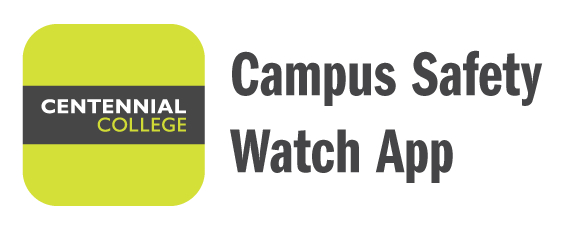 Download Now
In All Emergencies, Dial Ext. 2020 or 416-439-4357 (HELP)
General Service: 416-289-5000, Ext. 5240
Get the Safety App
Get the Safety App
Centennial's Life Safety and Security Services is committed to making your time on campus as safe and trouble-free as possible. Our latest security initiative is our newly released Campus Safety Watch App for your smartphone, which is designed to raise awareness of the personal safety services offered on all campuses, as well as help you to improve your personal safety and to encourage community involvement in public safety.
Our mobile safety app allows for quick and easy access to personal safety information and services on the go. The app is available as a free download on Google Play, iTunes App Store and BlackBerry World. Some of the convenient features of our app include:
Fingertip access to our Emergency Contacts, where you can call the Campus Security Emergency Helpline, Toronto Police, Crisis help lines, Good2Talk and sexual assault distress centres right from the app.
Receive Campus safety alerts and emergency closure notices directly on your smartphone.
The Safety Tool Box, which turns your mobile phone into a flash light, or loud alarm if you get into trouble. You can send an email or photo to Campus Security
Practical safety tips and advice.
A Safety and Security button that allows you to contact Security, has a link to our website and includes Campus Security office locations and the WalkSafe request call button.
The Campus Maps feature, which includes all the campus sites and floor plans to help you find a room and your way around campus.
The support resources feature, which includes contact information for Counselling Centres, the Centre for Students with Disabilities and Student Relations Offices.
The emergency procedures feature, which includes our Fire, Lockdown, Medical, Severe Weather and other emergency information and contact numbers.
The Sexual Violence Resources feature which has sexual assault and sexual violence prevention strategies, support information, reporting options, support resources for female and male survivors and RAD self-defence training information.
Our Stop Bullying Now tab that offers information on how to prevent, respond to and report personal harassment; this includes bullying at school, work or online.
We highly recommend our free Campus Safety Watch App for Centennial College students and employees. Have all your campus safety and security information at your fingertips by simply going to your mobile phone App Store, searching for "Centennial College" and downloading Centennial's Campus Safety Watch App. It is a fantastic safety resource for every Centennial community member.