Safety Watch App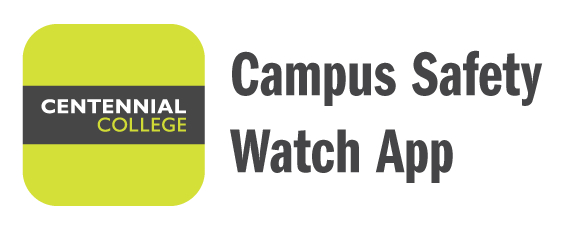 Download Now
In All Emergencies, Dial Ext. 2020 or 416-439-4357 (HELP)
General Service: 416-289-5000, Ext. 5240
Criminal Activity
In case of an emergency, call
Police 911
Campus Security

Emergency Ext. 2020
The Emergency Help Line 416-439-4357
Use A Yellow Emergency Phone
When calling to report Criminal Activity, be specific about
The nature of the incident
The location of the incident
Description of person(s) involved
Description of property involved
In the event of a Criminal Act
Assist security and police officers when they arrive by supplying them with all additional information and ask others to cooperate

Should gunfire or discharged explosives occur on the campus, you should immediately take cover using all available cover. After the disturbance, seek emergency aid as necessary.
Civil Disturbance or Demonstration
In case of a civil disturbance or demonstration notify Campus Security at emergency Ext. 2020
Security will monitor the demonstration
If it turns violent, and injury to persons or property occurs or appears imminent
Call for Emergency Services (911)
Call Campus Security, Emergency Ext. 2020, Emergency Help Line 416-439-4357 or us a Yellow Emergency Phone
Bomb and Related Threats
Bomb and related threats may be received in various ways. When receiving such a threat, it is important to compile as much information as possible. Please keep in mind that the vast majority of bomb threats are false and are primarily intended to elicit a response from the building occupants.
Threats Received by Phone
Remain calm do not panic

Pay attention to the caller and record as much detail as possible. Use Bomb Threat Telephone Procedure Checklist (copy at end of this Guide).

Note any characteristics of the caller's voice (gender, voice, age, accent, etc.)
Attempt to obtain information on the type of bomb, location and time it is set to go off
Immediately report the threat to Security at Ext. 2020
Notify your immediate supervisor
Threats Received by note, fax or email
Do not handle the note; leave it where it was found
Do not delete the email
Immediately notify security at Ext. 2020
Suspicious packages or letter
Do not touch or handle it. Do not shake or bump package. Do not open, smell, touch or taste the package. Treat it as suspect.

Call Security Ext. 2020. Provide the following details: you have a suspect package, its location, its description, why you believe it is suspect and any other useful information.

If you suspect it is a bomb, do not cover it, open doors and windows to minimize blast effects

If you suspect the object is contaminated (i.e. has powder or any other substance on it or leaking from it) gently cover it with other materials (i.e. newspaper, towels or plastic bags) and close the door

Clear the immediate area where the object was discovered

If you have handled an object which is suspected of being contaminated, minimize physical contact with others. Wash hands with soap and water. Remove contaminated clothes and place and seal them in a plastic bag or container. Shower with soap and water as soon as possible. Provide the authorities and Security with a list of all people who may have been in contact or close proximity to the object.
Security
Upon receiving a report of a bomb or related threats Security will investigate the report, contact Police, advise security administration, coordinate the search procedures and report results to police. A decision will then be made by the Incident Manager under the IMS procedures regarding further action or whether an evacuation is necessary.