Safety Watch App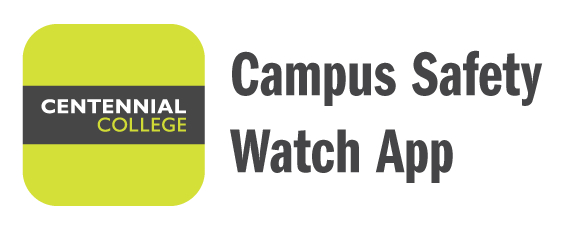 Download Now
In All Emergencies, Dial Ext. 2020 or 416-439-4357 (HELP)
General Service: 416-289-5000, Ext. 5240
Evacuation Procedures for People with Disabilities
STUDENTS requiring evacuation assistance must self-identify to the Centre for Students with Disabilities (CSD) and provide their schedule. CSD will work with the student and their faculty to develop an individualized emergency evacuation plan and submit it to Campus Security so the information is readily available in case of an emergency.
EMPLOYEES requiring evacuation assistance shall complete the Emergency Evacuation Questionnaire and submit it to their Supervisor/Manager for the completion of an individualized Emergency Evacuation Plan. The Supervisor will then submit this plan to Campus Security so the information is readily available in case of an emergency.
General tips on helping a person with a disability
"Ask first," if the person needs or wants your help - do not just assume that they do
Allow the person to identify how best to assist them
Do not touch the person, their service animal or their assistive device or equipment without their permission
Follow instructions given by the person or posted on special needs equipment or assistive device during an emergency
Avoid attempts to lift, support or assist in moving someone unless you are familiar with safe techniques
Be aware that some people who have disabilities may request that you use latex-free gloves to reduce spread of viral infection to them
Ask the person with special needs if areas of their body have reduced sensation and if the need you to check those areas for injuries after a disaster
Mobility Limitations
Mobility limitations may make it difficult for a person to use stairs or to move quickly over long distances. These can include reliance on mobility devises such as a wheelchair, scooter, walker, crutches or a walking cane. In addition, people with heart conditions or various respiratory difficulties can experience certain levels of mobility limitations.
Use the following points to assist people with mobility limitations
Following their directions, assist them to the best of your ability

Unless there is imminent danger, untrained people should avoid evacuating a person who cannot get out of their wheelchair

Take or direct them to a designated Area of Rescue or other safe location

Have someone stay with them while you immediately report their situation and location to an Emergency Preparedness Officer or Security by calling the Help Line at 416-439-4357, or call the Emergency Extension 2020 (from any College phone) or use an Emergency Phone (yellow box) located at or near each Area of Rescue

Security or the Emergency Preparedness Officers are to immediately inform Emergency Services of the situation and they in turn will decide if it is necessary to rescue the person needing evacuation assistance

In cases where there is a fire alarm, in many situations the cause of the alarm may be false or in a location that is distant from where the person requiring assistance is

Continue to use the emergency phone to maintain contact with Security for updates on the situation