QUESTIONS
P.O. Box 631 Station A
Toronto, ON, M1K 5E9
Energy and Water
Energy and Water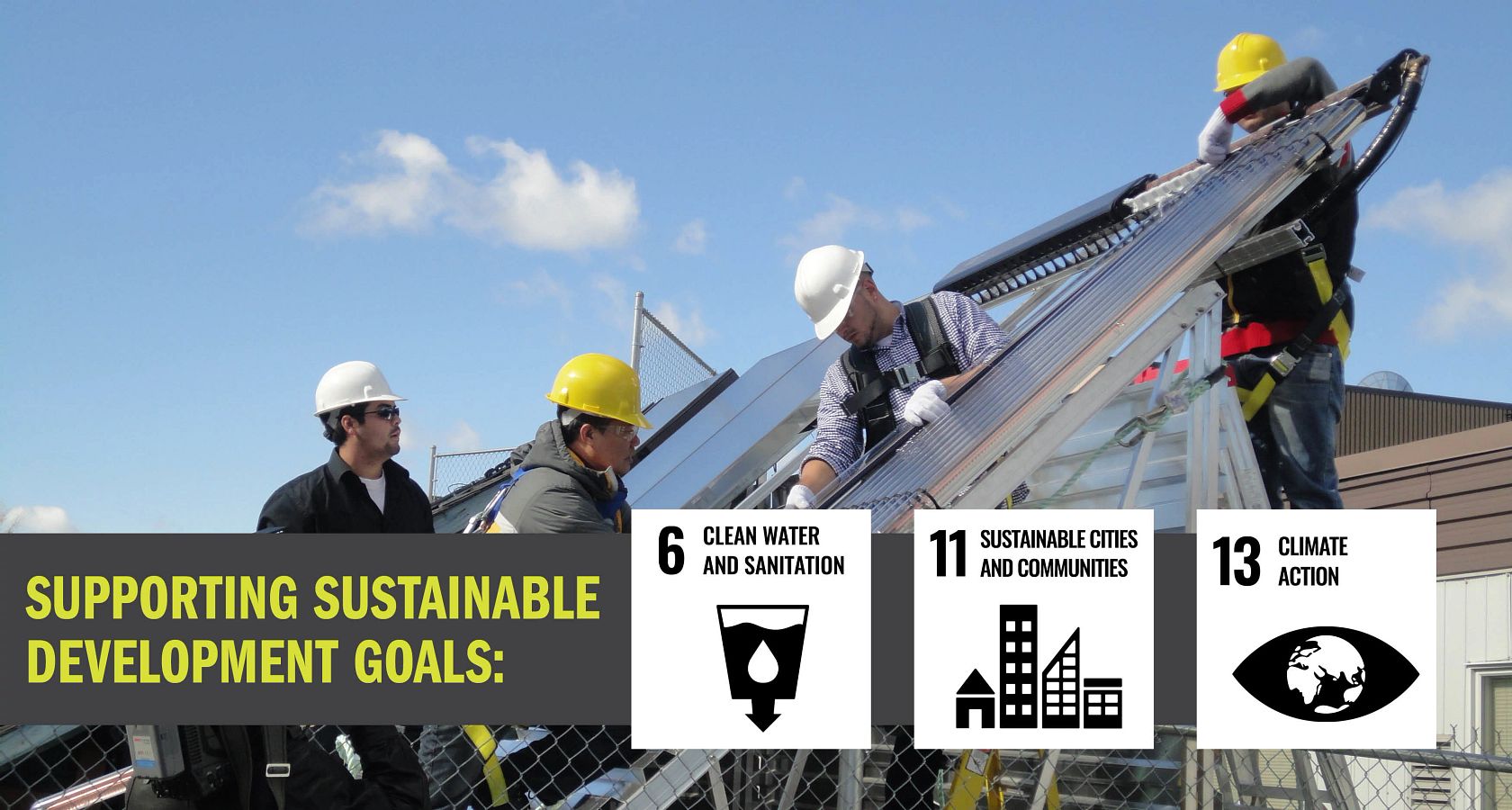 How We Support Sustainable Development
The Sustainable Development Goals (SDGs) are the world's blueprint for achieving a more sustainable and prosperous future for all, and Centennial is committed to turning these global goals into local business. By implementing retrofit measures to make our existing infrastructure more efficient, we are proud to contribute towards:
SDG 6: Ensure availability and sustainable management of water and sanitation for all;
SDG 11: Make cities and human settlements inclusive, safe, resilient and sustainable; and
SDG 13: Take urgent action to combat climate change and its impacts.
For more information about the SDGs, you can visit our Sustainable Development Strategy.
What You Can Do
Every person in our college community doing the following actions starting today can greatly contribute to our overall goal of energy, water and GHG emissions reductions!
1
Turn off the lights when you leave a room, regardless of it having an occupancy sensor.
Why it's important: Did you know 28% of our electricity usage is from lighting
2
Power down your electronic equipment when you leave for the day and remove any charging equipment from the wall outlet if possible.
Why it's important: Did you know 27% of our electricity usage comes from equipment that is plugged into an outlet.
3
Try to not adjust a room-specific thermostat for improved efficiency, and keep it at 22 Celsius in the winter and 24 Celsius in the summer
Why it's important: Did you know 84% of our natural gas usage comes from space heating?
4
Report any kind of water leak immediately to Facilities & Services Work Order Desk 416-289-5000 ext 7535 or facilitiesservicerequest@centennialcollege.ca
Why it's important: Did you know a leaky faucet could waste up to 21 litres of water per day, depending on the rate of the drip it could be more!
What We Plan To Do
Centennial College has a long-term vision to reach net-zero by 2050, through:
1
Decreasing overall energy consumption;
2
Switching to low-carbon renewable sources of energy; and
3
Increasing local energy generation from renewable sources.
What We Have Done
As of 2019, Centennial College has reduced 392 Tonnes of Green House Gas (GHG) emissions through retrofit activities to our college infrastructure. Projects across Centennial College campuses have included:
Hot water boiler replacements with high-efficiency models
Furnace replacements with high-efficiency models
Installation of voltage harmonizers, which are ultra-efficient transformers with smart controls that select the optimal voltage tap within a building in order to reduce consumption
Installation of variable frequency drives to cooling tower fans, hot water, glycol heating and chilled water pumps.
Installation of 47 electric vehicle charging stations across campuses; and
Replacement of incandescent lights with high efficiency LED lights
To plan for this, Centennial College developed a 5 year Energy and Water Conservation and Demand Management Plan (2019-2024), which has established the following reduction targets to work towards by 2024, against the 2017 baseline year:
Reduce our natural gas consumption up to 143,498 m3 (10%)
Reduce our electricity consumption up to 4,515,443 kWh (24%)
Reduce our GHG Emissions up to 461 Tonnes (13%)
Reduce our water consumption up to 7,499 m3 (11%)
We will work towards these targets by performing retrofits and updates to buildings, renovation and maintenance standards, and procurement policy. We are also going to work with our valued college community to spread awareness and get students and staff involved in the journey towards sustainability.
Campus users are encouraged to report energy wasters such as malfunctioning doors or broken windows, as well as faucets, toilets or urinals that are running or dripping needlessly, to our Work Order Control Centre.
Centennial College Energy Consumption and GHG Emission Data
If you have any general inquiries or questions regarding any of the initiatives above, please contact sustainability@centennialcollege.ca.