QUESTIONS
P.O. Box 631 Station A
Toronto, ON, M1K 5E9
Green Innovation
Green Innovation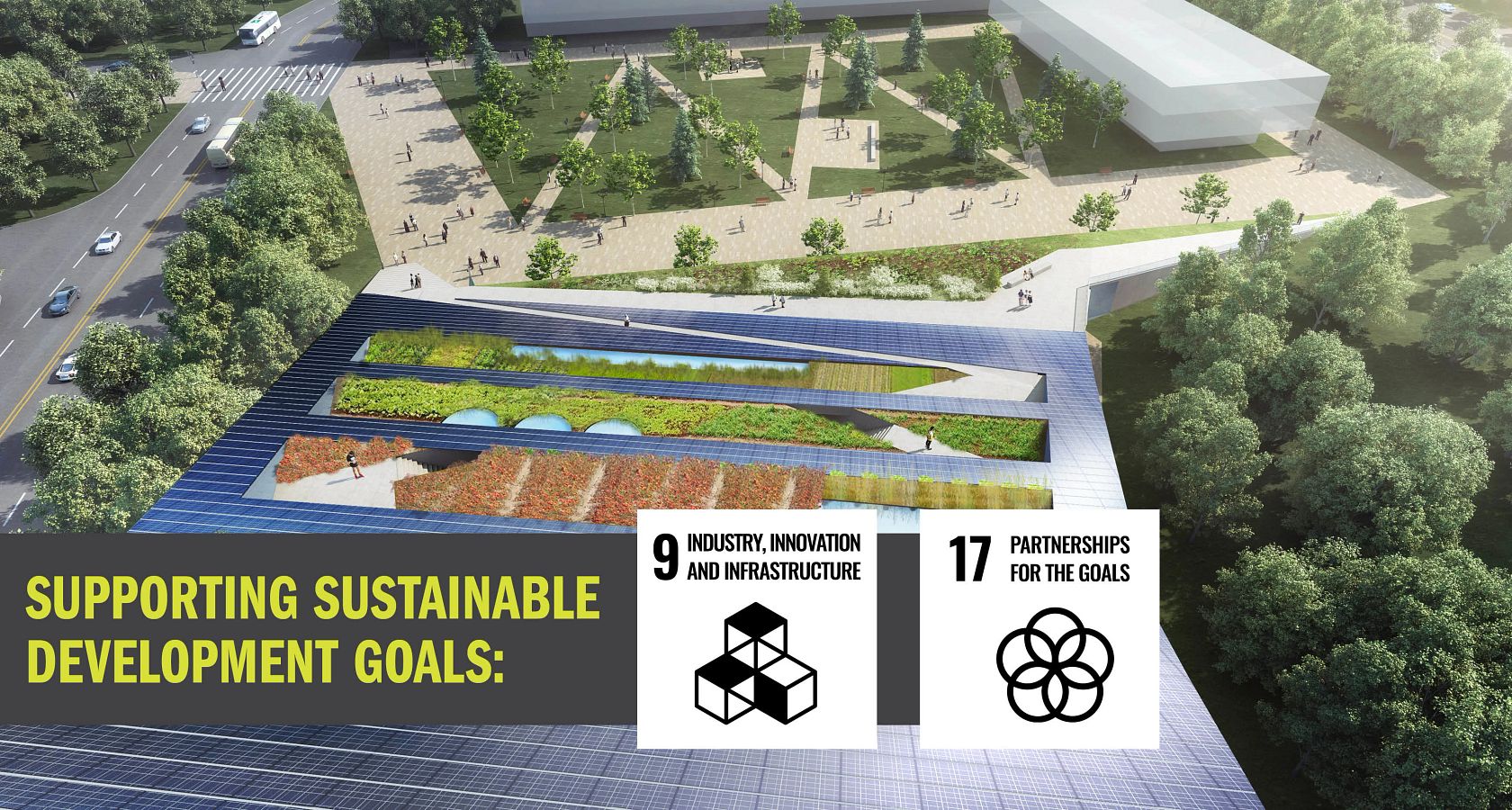 How We Support Sustainable Development
The Sustainable Development Goals (SDGs) are the world's blueprint for achieving a more sustainable and prosperous future for all, and Centennial is committed to turning these global goals into local businesses. Through our Applied Research, Innovation and Entrepreneurship activities and our strategic initiatives, we are proud to contribute towards:
SDG 9: Build resilient infrastructure, promote inclusive and sustainable industrialization and foster innovation; and
SDG 17: Strengthen the means of implementation and revitalize the global partnership for sustainable development.
For more information about the SDGs, you can visit our strategy on Sustainable Development.
Our Green Innovation Initiatives
Canada's First Net-Zero Vertical Farm
Centennial College is proud to initiate the design and development of a Clean Technology Facility (CTF) in collaboration with the University of Toronto Scarborough (UTSC). The CTF will be Canada's first net-zero vertical farm, living lab, training and research facility. It will test and verify the latest advancements in clean technology, high-performance buildings, and multiple forms of integrated urban agriculture.
The projected 200,000-ft2 facility will host academic classrooms and labs, applied research and innovation space, business incubation and partnership space. It will be the new home for multiple programs within Centennial College's School of Engineering Technology and Applied Sciences.
The Future of Clean Technology Programming
What makes the CTF a living lab will be the opportunity for students to interact with the various systems that allow the facility to function. These systems will include integrated urban agriculture components, clean energy sources, smart grid technology, automation and artificial intelligent systems, and other mechatronics engineering implementations. The CTF will be a place where the industry can validate their new technologies and processes from its implementation in our system, all while producing local and organic food in a closed-looped system.
About SIER
The Office of Strategic Initiatives and External Relations (SIER) at Centennial is leading this project while working in collaboration with internal and external stakeholders. Since the idea's inception in 2017, SIER has worked with many internal college departments, consultants and industry partners to gain perspective and build out the vision for the facility. As of 2020, the project is at its conception phase which involves gathering information from the College and working with UTSC to explore areas of collaboration. SIER is in process of implementing its plans on building relationships with the Indigenous communities and government officials to develop the vision further.
The Office of Strategic Initiatives and External Relations (SIER) is a catalyst for developing and strengthening relationships with key industry, academic, government and community stakeholders in order to grow opportunities for collaboration and identify new major initiatives that possess the potential of having a transformational impact on the institution.
For More Information
If you have any questions or comments regarding the proposed Clean Technology Facility, please contact Melanie McCormick, Project Manager in the Office of Strategic Initiatives and External Relations at Centennial College: mmccormick@centennialcollege.ca
*Disclaimer: The CTF is in its conception phase, while the vision has been described here, it may be subject to change.
Applied Research in Renewable Energy
Centennial has been a leader in sustainability research for more than a decade. In 2006, Centennial's School of Engineering Technology and Applied Science established the Centennial Energy Institute, which worked with local partners to build academic programming and engage in collaborative research in energy systems technology. Our efforts in this area were recognized by the Natural Sciences and Engineering Research Council of Canada (NSERC), which awarded a $2.3M Innovation Enhancement grant to the College in 2012 for partnered research in renewable energy.
Since then, we have built a strong network of GTA-based small and medium enterprises (SMEs) in the renewable energy field. These partners provide advice for curriculum design, hire our co-op students and graduates, and engage in applied research and technology development with our professors. Some of the results of these partnerships can be seen at our Progress Campus, including:
Wind turbines from Clear Blue Technologies power some of our parking infrastructures. This green energy project created an innovative, commercialize solar and wind charge controller to power off-grid devices like streetlights, security systems, mobile lighting and more. The project is a huge commercial success for Clear Blue Technologies – resulting in the acquisition of over 50 new customers in the first year of sales, and 8 new jobs for this fast-growing startup, among other things.
The NSERC-funded 4.5-kW solar installation provides a testbed to evaluate and demonstrate photovoltaic technology.